Marking the second Irish feature length animation to be released in Ireland in the past year, IFTN talks with director Tomm Moore ahead of the release of his lavish debut feature 'The Secret of Kells'.
Set for nationwide release on Friday 6th March by Walt Disney Studios Motion Pictures, Ireland, 'The Secret of Kells' introduces the vibrant work of director Tomm Moore and the team at Cartoon Saloon, the Kilkenny based animators behind the IFTA winning series 'Skunk Fu'. The film is also the work of a partnership with animators and producers from France's Les Armateurs and Belgium's Vivi Film.
With the backdrop of the Viking raids on Ireland, the animation follows twelve-year-old Brendan who meets an elderly Brother Aidan, the keeper of an extraordinary, but unfinished book of illuminations. Aidan sets Brendan the task of completing this legendary book for which he must overcome obstacles and face his deepest fears to carry out his duty.
Irish talent lending their voices to the film include Brendan Gleeson who plays Brendan's strict uncle, Mick Lally as Brother Aidan and newcomers Evan McGuire as Brendan, and Christen Mooney as mysterious fairy girl Aisling.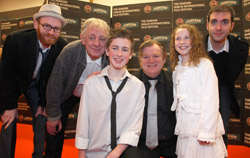 Paul Young, Mick Lally, Evan McGuire, Brendan Gleeson, Christen Mooney and Tomm Moore
Original music was provided by Academy Award nominee Bruno Coulais of the Palm D'or winning 'Les Choristes' (The Chorus) and Irish trad band Kíla. The Film was supported financially by BCI, Irish Film Board, Celluloid Dreams, Canal Plus, Gebeka, FTD Video, Eurimages and RTÉ.
Having the title of Best Irish Film at this year's Dublin International Film Festival under it's belt, 'The Secret of Kells' has also received nominations for the upcoming Cartoon Movie Tributes in France. Last year also saw director Tomm Moore selected by the Screen Director's Guild Directors Finders Series to showcase the film at the Director's Guild of America Theatre, LA. In our interview, Tomm talks to IFTN about the new style of 'illuminating animation' the film encompasses and the current Irish animation industry.